Universal mobile investment app for retail investors
Based on its long-term experience, ARBES has prepared a template universal mobile investment application. It is designed for financial institutions and intermediaries to provide their investment and sales services to end retail clients.
Takes into account local regulatory specificities
The application covers the complete life cycle
Based on capital markets "best practice"
The flexibility of the application architecture allows easy deployment and adaptation to the priorities and service needs of the financial institution
In "R2G" mod, the app can be easily adapted to a client's corporate identity
App Facts
Universal mobile app is natively ready for iOS and Android
It is optimized for the latest 3 operating system versions of both platforms
Two language versions (CZ and EN)
On-boarding
Application activation
Client identification
Investment questionnaire
Signing contract documents
Dashboard and Overviews
Positions held
Settlement accounts
Instructions
Transactions
Regular investments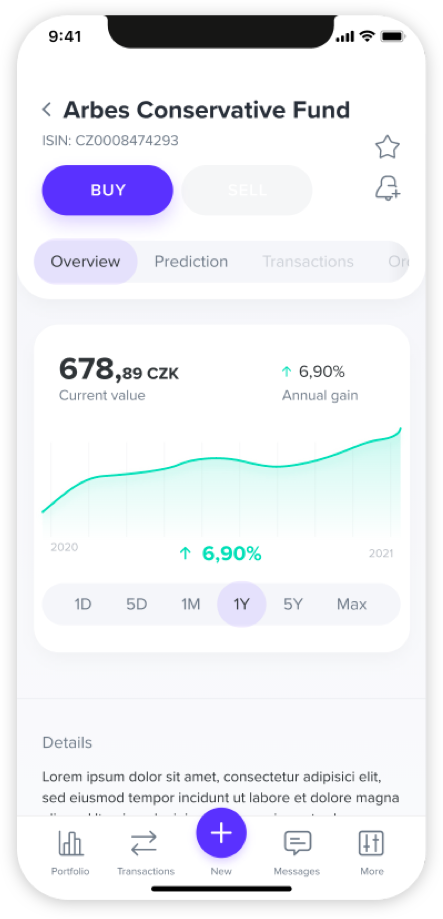 App higlights
Provides a complete digital investment service
10 basic client workflows
120 unique screens
Native mobile version of the app for iOS and Android
Fully digitalized on-boarding process
Dynamic investment questionnaire
Independent integration and persistent ADP layer
Simple integration with current core systems
Quick processing of corporate identity
Covers regulatory requests
Would you like to know more?
Michal Houštecký        
Director of Digital Solutions
Would you like more information about the product? Please contact us. We're happy to help.